Ladies Bible Study
September 5th - April 24th, 2018
The God of the universe is crazy about you! His love is the most powerful thing in the world and He wants to give it to you, so you can live for Him. In this study of Francis Chan's book, Crazy Love, you will be reminded and challenged in your walk as chan shares from his own life struggles and sacrifices, and issues a call for selfless, Christ-like living. Let the love you have received from God impact your life like never before.
This ladies study will be led by Dahnielle Arias.
College & Career Bible Fellowship Elective- Lessons From Legends
January 28th - April 22nd, 2018
$0
Some of the greatest biographies of history are recorded right in the pages of Scripture.The Bible tells the true stories of men and women whose names are still familiar to us today because of their legendary accomplishments for God.
In this thirteen-lesson curriculum, students learn from the lives of the earliest giants of faith. From their testimonies, we learn that the impossible is still attainable for those will walk with and trust in power of God!
The lessons included are gleaned from the lives of the following legends of history:
Joshua—Training for Leadership Caleb—Mountain Claiming Barnabas—The Encourager John—The Beloved Jeremiah—Heart of Compassion Ruth—From Defeat to Victory Job—Trusting in Tribulations Samson—Wasted Potential Centurion—The Man Who Amazed Jesus Esther—Found Faithful Elisha—A Double Portion Joseph—Living Like Jesus Jonathan—True Friendship
This class is taught by Joshua Payne (Workbook is available for $5.00)
Bible Fellowship Elective- Always Rejoicing
January 28th - April 22nd, 2018
$0
Every believer desires to experience the abundant joy that Jesus Christ promised! Yet, many Christians seem to mistakenly believe that joy "just happens." It's as though they are waiting for some fantastic event to occur that will produce instant joy. God's truth is that joy is a by-product of a right relationship with Jesus Christ. It is not a commodity but rather a character! Joy comes from willingly living within the parameters of God's truth and His promises.
The book of Philippians presents one of the Bible's greatest studies on faithful, joyful Christian living. This thirteen-lesson study will encourage you and equip you to walk with joy through every circumstance and trial of the Christian life. Verse by verse you will rediscover God's plan for growing, transforming, and using your life—in the context of His ever-present joy. In each lesson, you will find that joy is the product of His process and His plan at work in you.
This class is taught by Joe Perrino (Student Workbook available for $5.00)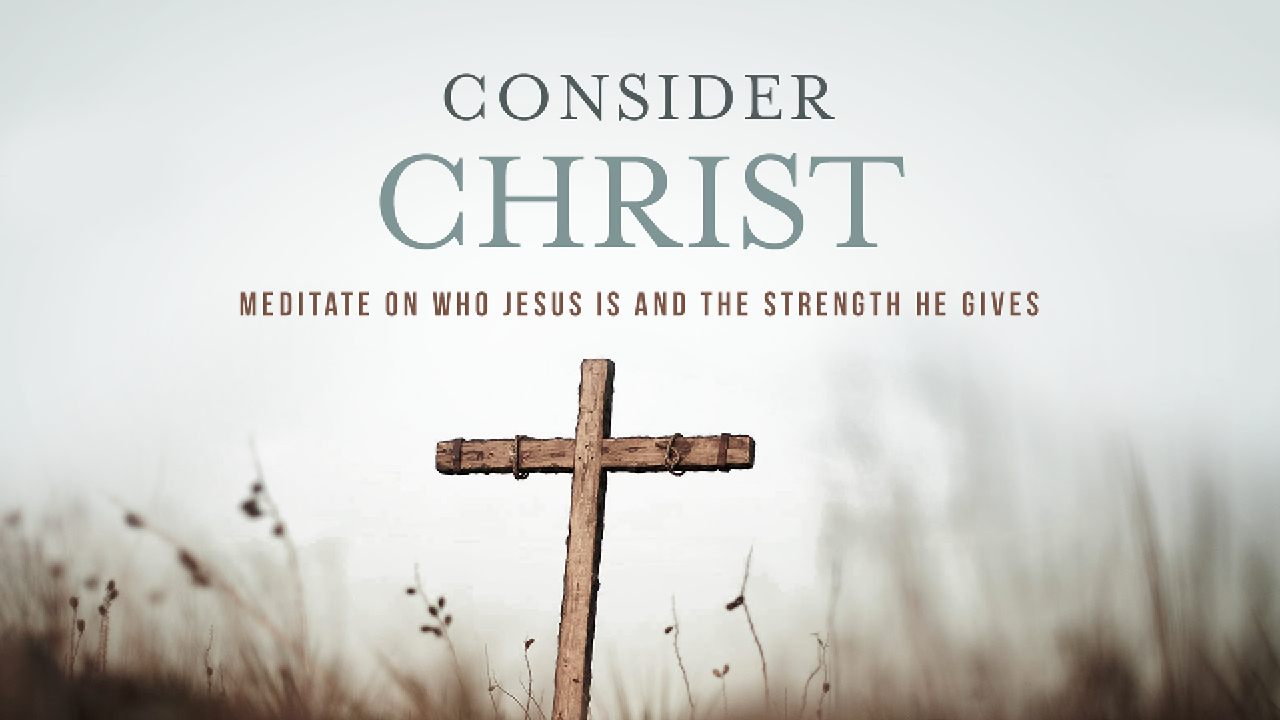 Bible Fellowship Elective- Consider Christ
January 28th - April 22nd, 2018
$0
Our minds are constantly asked to consider something. Voices from every direction call us to consider their message. Political campaigns, advertisements, posts on social media, friends, family, our own thoughts—they all call us to consider, to give them space in our minds and a moment of our attention.
In all our considering, there is one who easily gets crowded out of our everyday thoughts—Jesus Christ. Yet, God's Word specifically calls us to "Consider Him" (Hebrews 12:3). Through this thirteen-lesson study, consider Jesus. As you focus your thoughts on Him, you'll find your mind renewed and your joy refreshed.
Lesson topics include:
Consider Christ Consider His Presence Consider His Omniscience Consider His Deliverance Consider His Omnipotence Consider His Lordship Consider His Holiness Consider His Forgiveness Consider His Power Consider His Provision Consider His Eternality Consider His Suffering Consider His Priority
This class is taught by Rob Arias (Student Workbook available for $5.00)